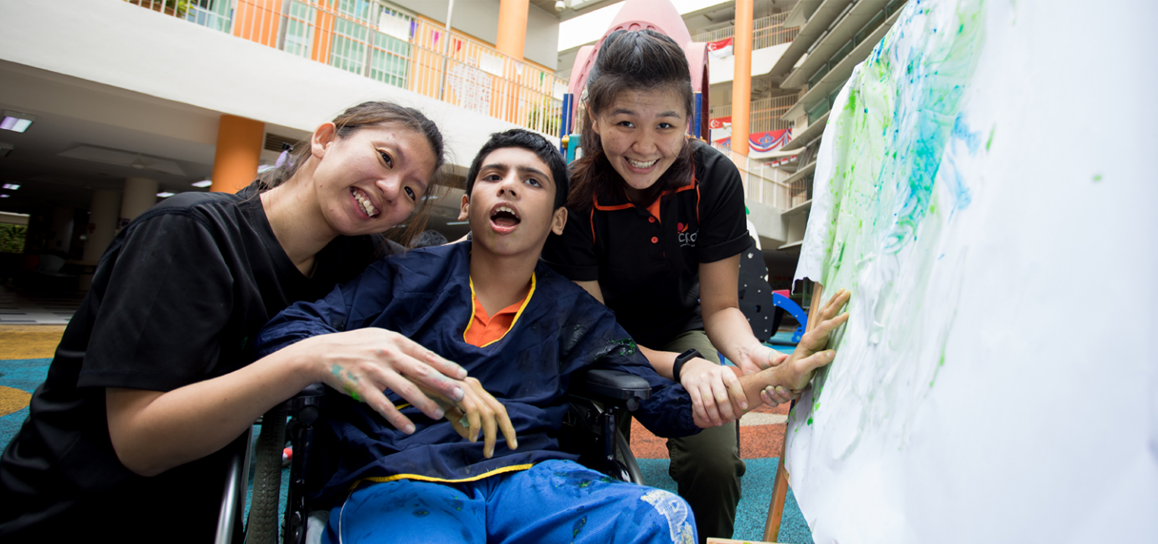 Cerebral Palsy Alliance Singapore (CPAS) is a social service organisation established in 1957 to provide persons with cerebral palsy and multiple disabilities with early intervention, special education, rehabilitation services, day activity centre programmes, vocational training and gainful employment in Singapore. At present, we look after over 700 clients ranging in age from a few months to 55 years old.
Registered Member of NCSS since 1957
| | |
| --- | --- |
| UEN No: | S60SS0003K |
| Charity Status: | Registered |
| Date of charity registration: | 22/08/1984 |
| IPC Status: | Live |
| IPC Period: | 01/06/2018 – 30/11/2019 |
Vision
Empowering persons with cerebral palsy or multiple disabilities to realise their full potential and lead fulfilled, dignified lives.
Mission
Dedication to:
Delivering fully integrated programmes and services at the highest standards with passion, integrity, care, and excellence
Creating awareness of cerebral palsy, and advocating equal opportunities for all persons with the condition
Core Values – HEART
Hope We seek to inspire hope in the hearts of our clients
Empowerment Our aim is to empower our clients to overcome their challenges and live a life without limits
Aspiration Never content with the status quo, we aspire not to only enhance the lives of our clients, but also our service and capabilities
Respect Respect is a fundamental value that guides the actions of our staff
Trust Above all, we value the trust that clients place in our organisation's programmes and services
The Goodwill, Rehabilitation and Occupational Workshop (GROW) was set up as a sheltered workshop at 17 McNair Road. Its objective was to provide vocational training and employment opportunities for adults with CP. GROW also gives students, who have completed their education, the opportunity to continue training at the Workshop.
SCAS started making special seats for clients with CP who had difficulties sitting on ordinary seats or wheelchairs due to their special physical needs.
SCAS became a member of the Community Chest. This was to help fund its programmes and to continue providing quality services to persons with CP.
A pilot project for our rehabilitation professionals and volunteers to make visits to our homebound clients was initiated. The project was later known as the Home Management Programme (HMP). This was to help our severely disabled clients who were unable to travel to SCAS for treatment due to their difficulties in mobility. SCAS provided free clinical consultations with the support of volunteer doctors in many aspects of medical healthcare, including orthopaedic, splinting, neurosurgical, spinal, hands, eye and dental care.
A pilot project was initiated to make customised moulded special seats called Foam-In-Place (FIP) for children with CP with postural problems. The project proved to be a success and beneficial as SCAS had clients referred from other association, hospitals and overseas as far as Indonesia, Malaysia and Vietnam. Due to the long waiting list for admission to the special school, coupled with the lack of space at Gilstead Road, one of the rooms at GROW's premises was converted into two classrooms.
Two more classrooms were added at GROW by shifting the storeroom and the gymnasium to a specially constructed shed at the back of the premises. There were now 30 classes serving the needs of children with CP aged five to 18-years-old.
A Paediatric Neurology Clinic and a Feeding and Dysphasia Clinic were introduced.
The Ministry of Education granted SCAS a 0.85-hectare plot of land at Pasir Ris Drive 1 for the construction of a special purpose centre to centralise all the programmes.
Construction work started for a four-storey centre that would accommodate all existing facilities, including new programmes such as the Paediatric Development Unit, Early Intervention Programme and Day Activity Centre.
The Headquarters and GROW moved to the new premises in November 2003 and the School and Rehabilitation Centre shifted in by December 2003. Designed for children with disabilities, the current site was bigger, with the capacity to expand as our services increased.
The new CP Centre, located at 65 Pasir Ris Drive 1, was officially opened by Prime Minister Lee Hsien Loong on 18 September 2004.
The Early Intervention Programme for Infants and Children (EIPIC) was initiated in the new premises. SCAS commissioned Dr Elsie Yu to create a sculpture, which was placed in front of the Cerebral Palsy Centre. The sculpture was unveiled on 14 November by Mrs SR Nathan, wife of the President of the Republic of Singapore.
The Ministry of Community Development, Youth and Sports (MCYS) approved the set up and support of the Day Activity Centre (DAC) in SCAS as part of its efforts to cater for clients who were not suitable for open employment or the sheltered workshop. DAC opened with its first intake of clients in February 2006.
EIPIC had expanded exponentially to meet the needs of the younger population of infants and children. The programme had 90 children at the end of 2007, a figure expected to continue growing gradually.
SCAS aimed to establish itself as a Mega Therapy Hub that will act as a one-stop centre for physiotherapy, occupational therapy, speech & language pathology, medical and psychological services for clients, along with members of the public who face issues related to CP and other disorders of movement, posture and development. SCAS introduced an outreach initiative for EIPIC named Spastic Children's Outreach Programme & Education (SCOPE). The mission was to help each EIPIC child maximise his or her potential by training parents, other caregivers, and teachers from mainstream schools in therapeutic techniques individually designed to enhance the child's early development.
To provide a one-stop centre for rehabilitation service at SCAS, a collaboration with Tan Tock Seng Hospital was initiated. This collaboration produced the Assistive Technology Clinic, Neuro Development Clinic, Sensory Integration Clinic and Combined Hand and Ortho Clinic. In-line with its aim to establish SCAS as a Mega Therapy Hub, a Seating and Positioning Workshop for managing critical back issues was held for rehabilitation professionals.
From June to August, 24 therapists from Singapore and overseas participated in the Neuro-Developmental Treatment (NDT) Workshop organised by SCAS.
EIPIC satellite unit was initiated at Block 630 opposite the Cerebral Palsy Centre in July. This unit catered to the growing population of EIPIC students at the Centre and enabled SCAS to extend its services to those who had been waiting patiently for a place in the programme. The Cerebral Palsy Symposium was held from 7 to 10 September at Sheraton Towers Singapore. Workshops and talks were conducted by local and overseas faculties to benefit medical staff, therapists, teachers and parents who work closely with persons with CP and other disorders of posture, movement and development.
SCAS celebrated the first World CP Day on 4 September. Following a global theme 'Change My World in One Minute' that aimed to gather ideas from the CP community and the wider community that would make a difference in the lives of persons with CP. The most popular ideas would be invented and the prize money would be offered to the inventor/creator.
To better reflect its programmes and services to assist persons with CP and related disorders as well as to give an improved name to safeguard the dignity of people with the condition, the organisation changed its name from "Spastic Children's Association of Singapore" to "Cerebral Palsy Alliance Singapore" (CPAS) with effect from 14 January 2013.
CPAS initiated the Spare Your Change Day to commemorate World Cerebral Palsy (CP) Day on 1 October 2014. A total of 21 corporate partners had 50 Suzy Doll Donation Boxes at their premise encouraging staff to drop their spare change to raise funds for our beneficiaries. Of the 48 countries involved this year in celebrating World Cerebral Palsy Day, Singapore topped the ideas count winning the World CP Day 2014 Ideas Award of US$10,000.
CPAS launched its first fundraising event, Steptember, a health and wellness initiative to promote fitness while raising funds for people living with cerebral palsy. To address a growing need for more accessible specialised therapy services, CPAS opens up two out of its seven Specialised Clinics to the public: the Feeding and Swallowing clinic, and the Audiology Clinic. CPAS hopes to provide the general public with more affordable options for therapy.
The CPAS Connect Alumni Programme was launched on 5 October 2016. CPAS Connect aims to provide holistic services and individualised plans to improve the well-being of every individual beyond schooling years. CPAS held its inaugural charity dinner on 30 July 2016. Themed 'I Believe, An Evening of Possibilities', the dinner strived to break down perceived limitations associated with individuals with cerebral palsy and raised funds for CPAS programmes and services.
CPAS launched the Singapore Cerebral Palsy Registry on 8 September 2017. The first registry for cerebral palsy in Singapore, this project is a collaborative effort between KK Women's and Children's Hospital, National University Hospital (NUH) and CPAS. This research registry aims to improve the overall understanding of cerebral palsy in Singapore and will assist in the future planning of services and resources for persons with cerebral palsy in Singapore.