Application process for potential CPAS School students
We will continue to make adjustments to our admission and initial screening in view of COVID-19 situation. We seek your understanding and will provide more details and information when we liaise with you via email, calls and tele-conferencing.
A referring agency or parents/caregivers of child will apply for a placement in the school via the CPAS Social Work Department
Please submit your child's application using the digitised Special Education (SPED) school application form, at https://go.gov.sg/spedschoolapplicationform or scan QR code below.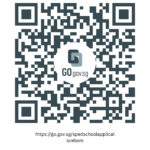 Please note that your child's psychological assessment report(s) is/are required (but we do not require an IQ score)
An Initial Assessment (IA) will be conducted by our team to assess the current level of performance for the child once we receive your application
The admission of the child to school will depend on the availability of the class placement in the suitable educational programme and the final decision of the CPAS Programmes Sub-Committee
Criteria
Children who are between 7 years to 18 years old
Children with multiple disabilities (except Autism Spectrum Disorder, ASD)
For more information, please contact the
CPAS Social Work Department
at 
6585 5617
.