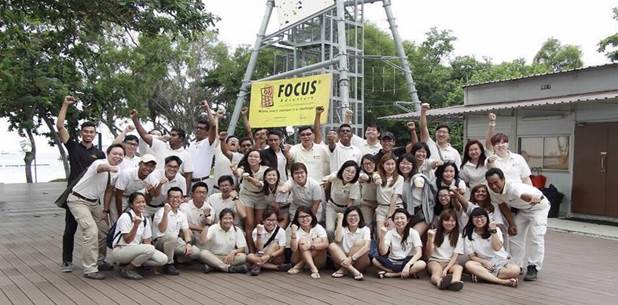 The COVID-19 pandemic had disrupted FOCUS Adventure's operations. As one of the leading adventure learning providers, they also operate with their sister company, CAMP CHALLENGE, that runs youth targeted programs at their Sembawang location. During the circuit breaker, their team of outdoor adventure learning facilitators were managing their camp facilities which have been transformed to a Temporary Living Quarters (TLQ) as part of the nation's COVID-19 relief efforts.
The First Sign of What Was to Come
Programme cancellations started as early as 4 February 2020 and was a foreboding to what was to come. Within hours, a press release by the Ministry of Education (MOE) announced that all mass camps and programs were to be suspended. In the months following, as the COVID-19 pandemic situation escalated, Singapore soon entered into a nationwide Circuit Breaker.
The Circuit Breaker meant that FOCUS Adventure and their sister companies could not run any teambuilding programmes or adventure camps and their facilities were left vacant. This affected their key revenue stream greatly.
Assisting Singapore's COVID-19 Relief
Despite being heavily affected by the COVID-19 measures themselves, FOCUS Adventure and CAMP CHALLENGE responded promptly to the calls of the Ministry of Health (MOH) and Ministry of Manpower (MOM) in their COVID-19 relief efforts.
The significant moment came when Malaysia announced that they would be going into lockdown in less than 24 hours. This left many Malaysians working in Singapore stranded, with no accommodation options.
The campsite and dormitories were swiftly converted to temporary accommodation for over 300 Malaysian workers based on strict guidelines by the ministries. Additional beds and linen had to be purchased at FOCUS Adventure's expense to cope with this surge. Subsequently, they also welcomed those on Stay-home Notice (SHN) and foreign construction workers from India and Bangladesh. FOCUS Adventure and CAMP CHALLENGE staff took 24 hours rotational shifts to manage the facilities.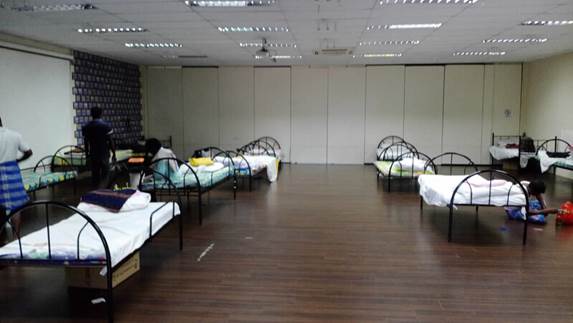 "Many decisions had to be made on ground as this is our first time housing workers on a long-term that all of us are unsure of. We had to get rooms ready and up to standards for extended stays based on the guidelines provided. Toilets need to be spick and span, ensuring sufficient hand sanitizer points and ample social distancing space within the site" - Wendy Tan (Chief Operation Officer), CAMP CHALLENGE.
Doing GOOD is in their DNA
As a registered social enterprise under raiSE, FOCUS Adventure strongly believes in making a difference in society. Through their Corporate Social Responsibility (CSR) efforts, they work closely with corporate clients to design teambuilding programmes that tie in to elements of CSR. One such programme is the "Supermarket Race Challenge" where participants will have to race against time to purchase necessities from supermarkets for those in need. Since 2019, FOCUS Adventure has been channeling donation-in-kind such as diapers, baby wipes and biscuits to Cerebral Palsy Alliance Singapore (CPAS) on a regular basis.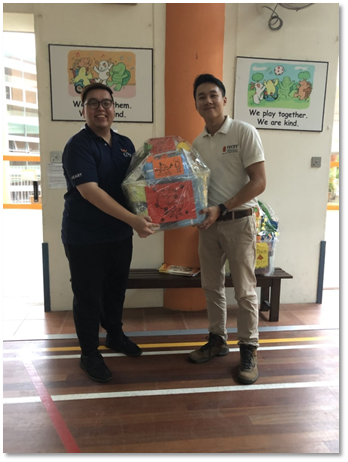 Going Virtual with The Online Shopping Challenge!

In order to adapt and to go virtual, FOCUS Adventure converted their physical programmes to virtual sessions conducted via Zoom. In the two and a half hours, participants will participate in energizers and complete team challenges to earn FOCUS dollars. The FOCUS dollars will then be used to purchase the grocery wishlist items from Cerebral Palsy Alliance Singapore (CPAS) via a platform to mimic the experience. The actual items will be fulfilled by FOCUS Adventure and delivered to CPAS after the programme.
Virtual Adventure Learning Programmes have opened up possibilities and FOCUS Adventure clients have been very receptive to the idea. Together with another sister company, Outdoor Adventures, they have co-hosted a virtual program with 1,300 participants in a single session in October 2020.
"We aspire to create a win-win between adventure learning and helping those in need through our Virtual and Physical CSR programmes so that we can continue to support charity beneficiaries like Cerebral Palsy Alliance Singapore. The most beautiful thing is to see a person smiling, but it is even more beautiful to know that you are the reason behind it! - Berwin Tan, Manager (CSR / Sustainability), FOCUS Adventure.
To encourage more participation in this one-of-a-kind virtual CSR program, FOCUS Adventure has kindly extended a 20% corporate discount off the facilitation fees for a minimum of 10 participants per run. This is in support of the SG Cares Giving Week 2020, a national giving movement led by the National Volunteer & Philanthropy Centre (NVPC).
For more information on this program, please write to Events@Cpas.org.sg  or CSR@FOCUSAdventure.com