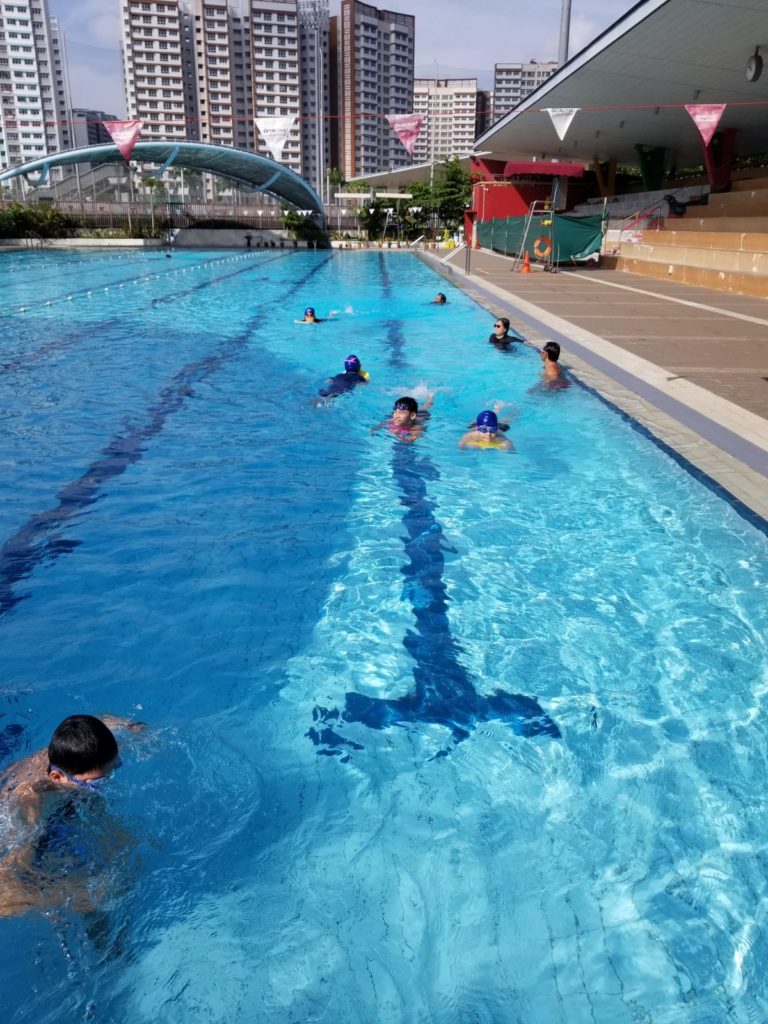 At the Swimming CCA, Students will learn swimming and motor skills under the guidance of professional coaches.
They will also pick up vital skills such as
competitive strokes
cardio-muscular endurance
water endurance
In addition, they would develop necessary socio-emotional skills such as teamwork, discipline and character development.
There are two tracks in the CPASS Swimming team, namely the non-competitive and competitive team.
Non-Competitive Track
Our non-competitive focuses on achieving water confidence, swimming independently, and physical fitness.
Competitive Track
Our competitive swimmers would be trained to possibly represent our school in local swimming competitions organised by the Singapore Disability Sports Council (SDSC).
For instance, in 2015, our students participated in the National Special Schools Swimming Championship, as well as the SPH National Para Swimming Championships.
Objectives
Educate students on the importance of water safety
Equip students with essential skills for swimming and survival
Develop confidence and independence in the swimming pool
Learn general and deep-end water safety (Swim Safer Stage 1)
Criteria
Students should:
Not have a history of epilepsy (fits)
Be able to follow verbal instructions independently
Short-listed students would go through a trial session, where they would be assessed by our swimming coaches on their confidence, basic strokes, endurance and stamina.
Achievements in 2021
In 2021, there were no activities for all Niche CCAs due to Covid-19.
Achievements in 2020
Training in School during Covid-19 Situation
Term 2 & 3 at Cpas Track
Due to Covid-19 situation, swimming activities had been replaced with dryland workouts which helped to improve the students' endurance, strength and coordination.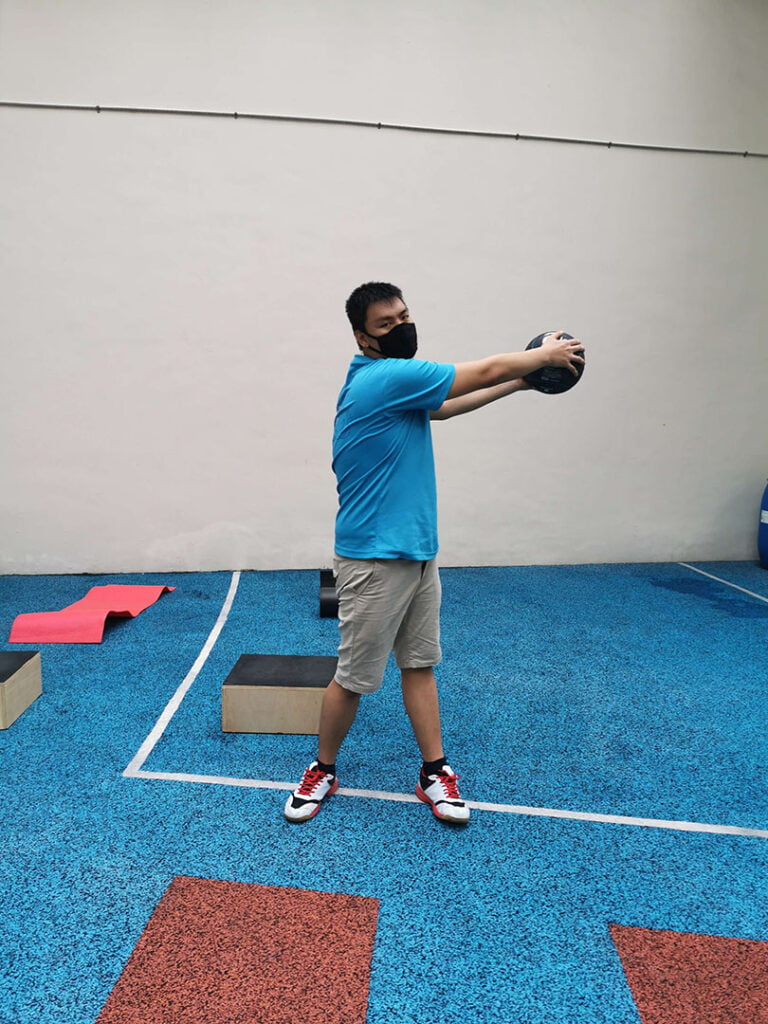 Training in CPAS Pool
Term 4 at CPAS Pool
The swimmers were finally able to go back into the water after two terms of dryland training. The students were back to their usual training sessions of distance kicking and stroke corrections, etc.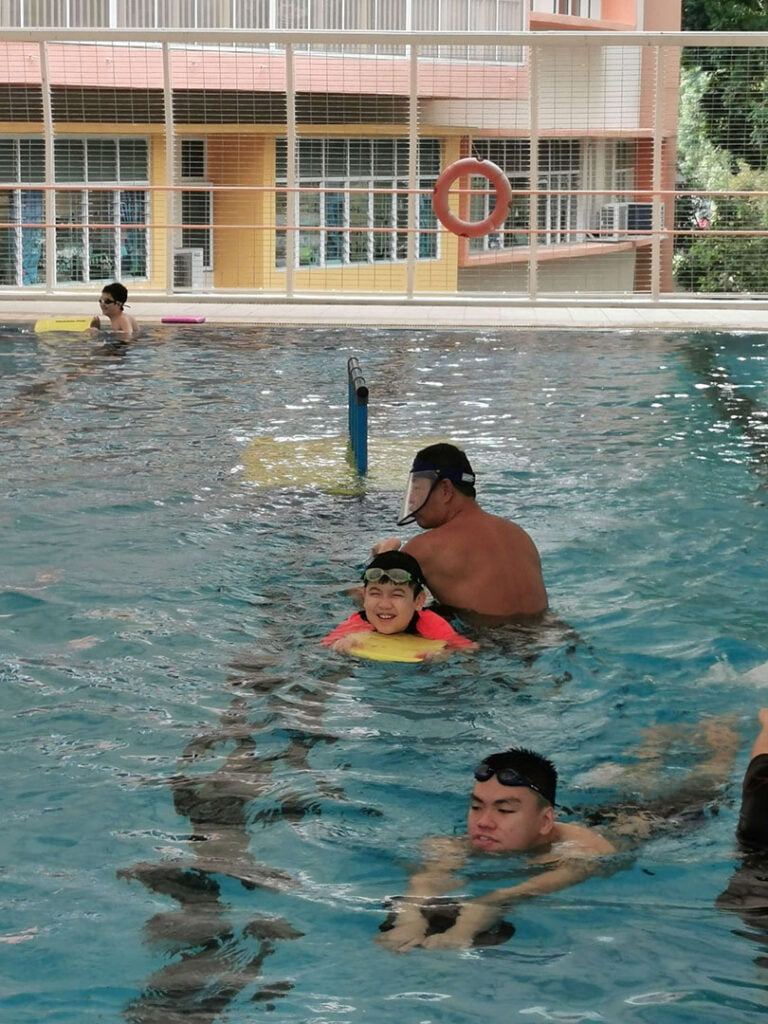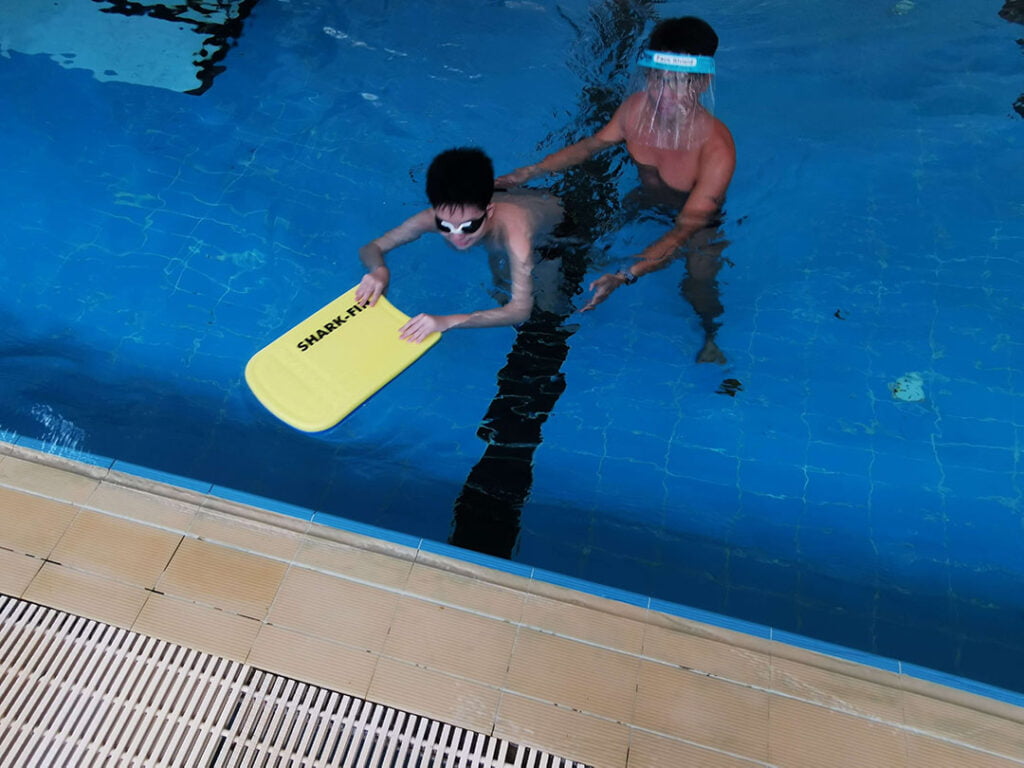 Achievements in 2019
Haw Par Youth Para Swimming Championship
27 September 2019 at Our Tampines Hub
5 students from CPASS competed in the swimming competition held at Our Tampines Hub. This year, they also had the honour to be introduced to Mr Baey Yam Keng, MP of Tampines North GRC. The students introduced themselves and shared about their feelings & experiences participating in the para swimming competition.
The five CPASS representatives are:
Siti Hawa Binte Abdullah
Liew Jia Jun
Samuel Sng
Ng Thaim Hock
Adrian Chan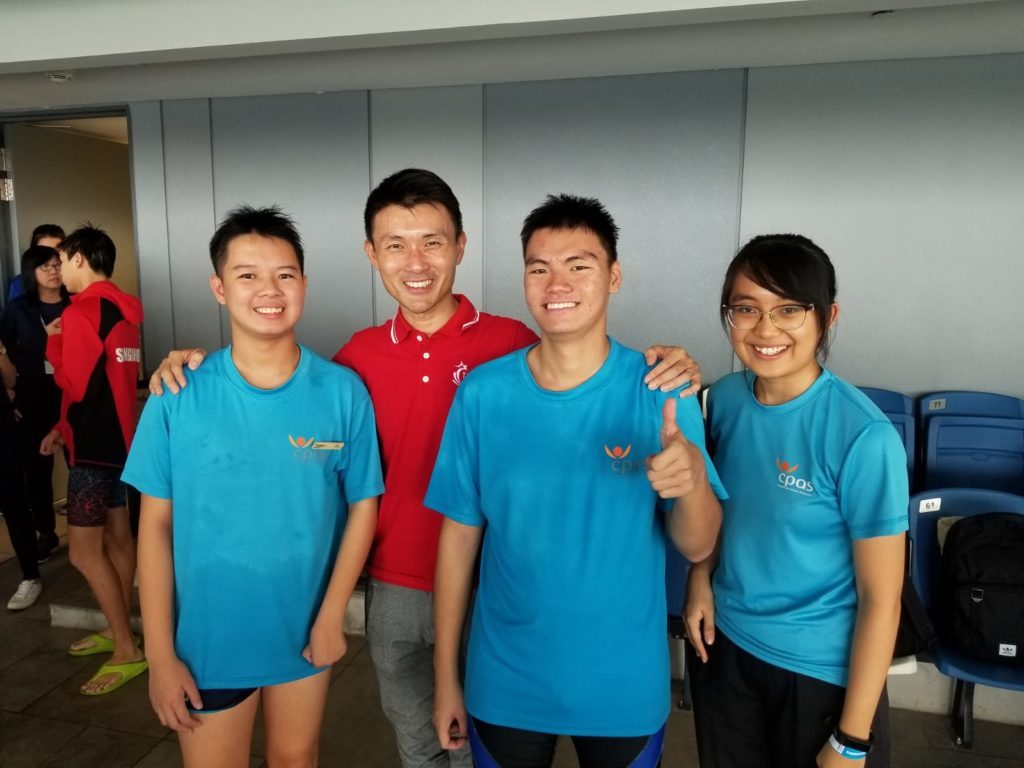 CCA Track & Field & Swimming Overseas Trip 2019
19 to 22 June 2019 in Nakhon Nayok, Thailand
Together with students from Track and Field CCA, 5 students from the CPASS swim team went to Nakhon Nayok, Thailand for a 4 days 3 night adventure camp in June 2019. For most of the students, it was their first time taking a plane to go on an overseas trip without their families. The students displayed confidence and resilience as they participated in various activities such as mountain trekking, abseiling and flying fox. They also had the chance to try some local Thai delights!
The students are:
Siti Hawa Binte Abdullah
Lucas Chan
Samuel Sng
Ng Thaim Hock
Jim Lee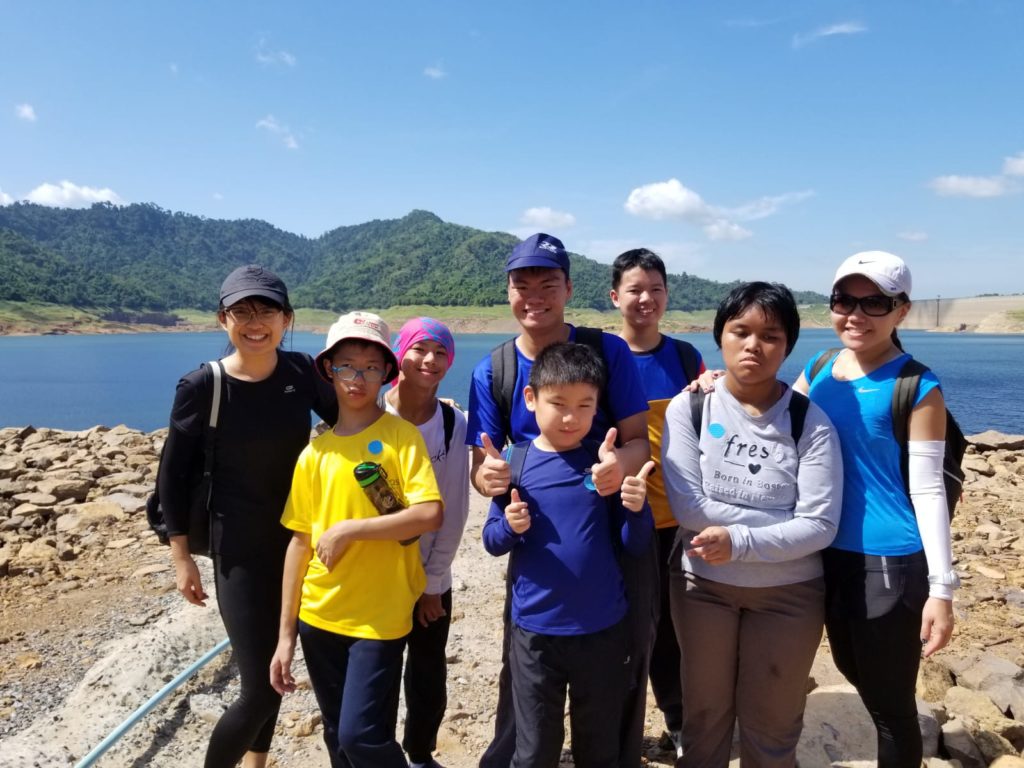 Achievements in 2018
Congratulations to the following students for their achievements in 2018:
SPH Foundation National Inclusive Swimming Championships 2018
Singapore Sports School Para Games 2018
Haw Par National Youth Para Swimming Championships 2018
Singapore National Games 2018
SPH Foundation National Inclusive Swimming Championships 2018
7 April 2018 at Tampines Sports Hub
Participants:

50m Butterfly:

S9: Thomas Ng Thiam Hock, Eagle 8B – Gold

100m Breastroke:

S9: Thomas Ng Thiam Hock, Eagle 8B – Gold

100m Freestyle:

S9: Thomas Ng Thiam Hock, Eagle 8B – Gold

Thomas Ng during the Prize Ceremony with Mr Baey Yam Keng, Senior Parliamentary Secretary, Ministry of Transport & Ministry of Culture, Community and Youth
Singapore Sports School Para Games 2018
30 June 2018 at Singapore Sports School
Participants:

50m Free Style

Siti Hawa Binte Abdullah, Eagle 7A
Ryan Choo Yi An, Eagle 4/5A
Koh Ling Yun, Eagle 7B
Lee Yan Min Jim, Eagle 9A
Liew Jia Jun, Eagle 2A
Samuel Sng, Eagle 8B

100m Freestyle

Samuel Sng, Eagle 8B
Thomas Ng Thiam Hock, Eagle 8B
Siti Hawa Binte Abdullah, Eagle 7A

50m Butterfly

Thomas Ng Thiam Hock, Eagle 8B

100m Breaststroke

Thomas Ng Thiam Hock, Eagle 8B
Haw Par National Youth Para-Swimming Championships 2018
20 July 2018 at Tampines Sports Hub
Participants:

Finisher Race

Siti Hawa Binte Abdullah, Eagle 7A
Ryan Choo Yi An, Eagle 4/5A
Koh Ling Yun, Eagle 7B
Lee Yan Min Jim, Eagle 9A
Liew Jia Jun, Eagle 2A

50m Freestyle

S7 – Samuel Sng Eagle 8B – Gold

100m Freestyle:

S7 – Samuel Sng, Eagle 8B
S9 – Thomas Ng Thiam Hock, Eagle 8B – Gold

50m Butterfly

S9 – Thomas Ng Thiam Hock, Eagle 8B

100m Breaststroke

S9 – Thomas Ng Thiam Hock, Eagle 8B

Medals Achieved by the swimmers
Singapore National Games 2018
4 and 5 August 2018 at Tampines Sports Hub
Participants:

Siti Hawa Binte Abdullah, Eagle 7A
Ryan Choo Yi An, Eagle 4/5A
Koh Ling Yun, Eagle 7B
Lee Yan Min Jim, Eagle 9A
Liew Jia Jun, Eagle 2A
Samuel Sng, Eagle 8B
Thomas Ng Thiam Hock, Eagle 8B

Koh Ling Yun was competing in the race
Achievements in 2017
Congratulations to the following students for their achievements in 2017:
Haw Par National Youth Para Swimming Championships 2017
13 April 2017 at Singapore Sports School
50M Free Style

Ng Thiam Hock, Thomas, Eagle 8B: Gold medal
Sng Yew Suan, Samuel (pictured), Eagle 8B: Bronze medal
58th National Inter-School Swimming Championships 2017
21 April 2017 at OCBC Aquatic Centre
50M Free Style
Siti Hawa Binte Abdullah, Eagle 7A: Participation Award
Thomas Ng Thiam Hock, Eagle 8B: Participation Award
Samuel Sng Yew Suan, Eagle 8B: Participation Award
SPH Foundation National Inclusive Swimming Championships
1 July 2017 at Toa Payoh Swimming Complex
50M Freestyle (S10 Junior division)
Siti Hawa Binte Abdullah, Eagle 7A and Jim Lee, Eagle 5A: Gold
50M Freestyle (S10 Open division)
Thomas Ng Thiam Hock, Eagle 8B: Gold
Samuel Sng Yew Suan, Eagle 8B: Silver
Ryan Choo Yi An, Eagle 8A: Bronze
Get Active! National Para Games Championships (Swimming) 2017
30 July 2017 at Tampines Hub
50M Freestyle

Thomas Ng Thiam Hock, Eagle 8B: Participant Award
SwimSafer Test (Stage 1 & 2)
25 August 2017 at Sengkang Swimming Complex
Stage 1 Achievers

Jim Lee Yan Min, Eagle 5A
Koh Ling Yun, Owl 1B

Stage 1 & 2 Achievers

Sng Yew Suan, Samuel, Eagle 8B
Ng Thiam Hock, Thomas, Eagle 8B
Siti Hawa Binte Abdullah, Eagle 7A