Audiology Clinic
Monday-Friday, 8.00am – 5.00pm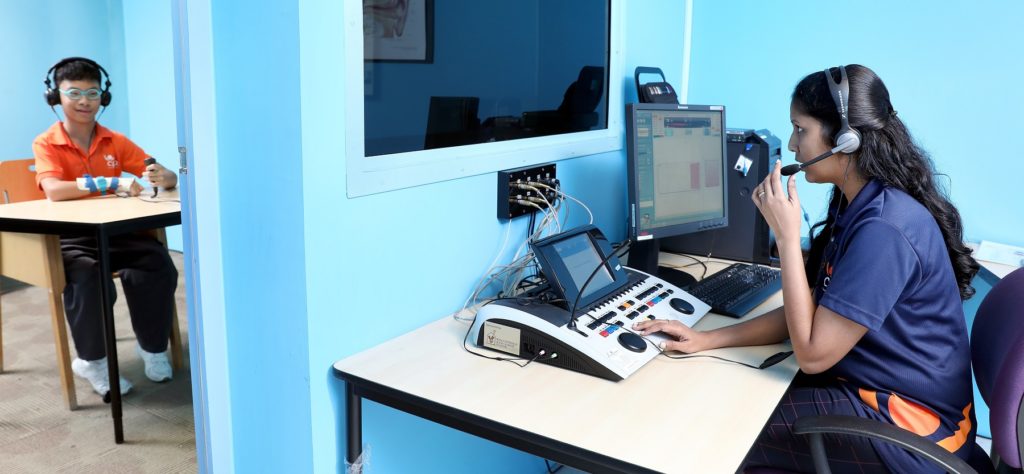 Children and adults with cerebral palsy are prone to have middle ear infections due to their difficulties in feeding and swallowing, thus requiring the need to monitor the status of the middle ear. Early identification of conditions arising from the middle ear allows for prompt treatment and prevents associated hearing loss. Additionally, a periodical hearing evaluation is required as hearing may deteriorate with ageing.
The CPAS Audiology Clinic conducts hearing screening, diagnostic testing, and management for individuals with hearing related issues.
Screening Services include the following:
Pure Tone Audiometry for three frequencies (500Hz, 1KHz & 2KHz), Tympanometry and OAE.
Diagnostic Services
To determine hearing status through one or more assessments depending on the individual responses:
Behavioural Observation Audiometry (BOA): for assessing the hearing acuity in infants and children, using reflexive and orientating responses to sound
Visual Reinforcement Audiometry (VRA)
Conditioned Play Audiometry: to test the hearing acuity in children using conditioned responses to sound by engaging in play-oriented activities
Pure Tone Audiometry
Tympanometry and Acoustic Reflex Threshold test
Rehabilitative Services
Hearing Aid Evaluation
Ear Mould Impression
Hearing Aid Programming & Fitting
Aided Audiometry
Hearing Aid Re-Programming
Hearing Aid Trouble shooting / Follow up with Hearing Aid Repair services
Auditory Verbal Therapy
Referrals to the Clinic:
Referrals can be made for individuals with hearing difficulty by an Allied Health Professional, doctors, parents and teachers within the organisation through the Referral Form. The Audiology Clinic is also open to the general public and the referral can be made by a medical professional through the Referral Form.
Operating Hours:
Monday to Thursday (8.30am – 4.00pm)
Testing will be done only through prior appointments through referral.
For further information, please feel free to contact:
Speech and Language Pathology Department
Level 3, Cerebral Palsy Alliance Singapore
Singapore 519529
Tel: 6585 5631/32
e-mail : slp@cpas.org.sg