Youth Volunteers Pilot Virtual Befriending for Adults with Cerebral Palsy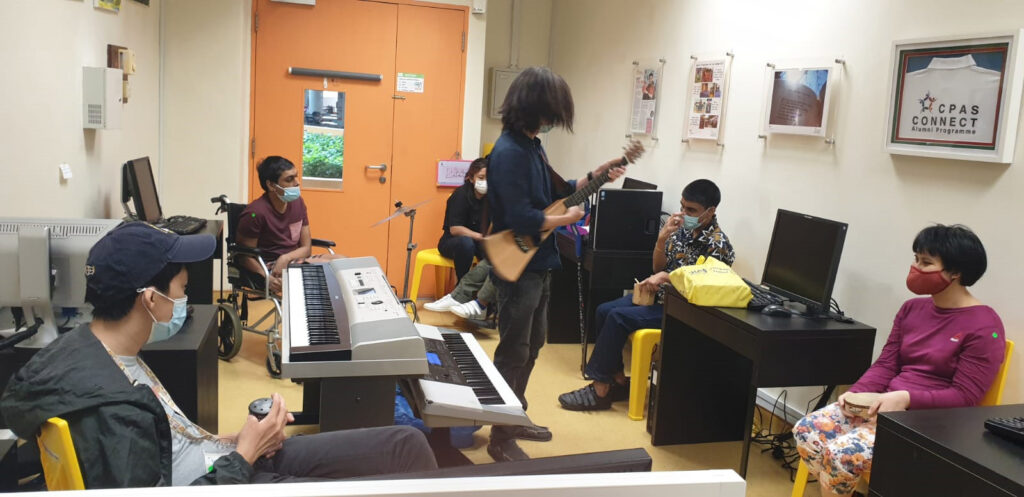 The CPAS Connect Alumni Programme was conceptualised in 2016 to provide activities to engage persons with cerebral palsy and multiple disabilities beyond schooling years.
In 2019, the National Council of Social Service (NCSS) kickstarted a Beyond Boundaries Club initiative. The initiative aims to enhance the quality of life of persons with moderate to severe disabilities by reducing social isolation and integrate them into the community through the club's regular programmes and activities.
As part of the initiative, CPAS embarked on planning for a physical befriending programme to outreach to homebound alumni members who were not able to travel out of their homes regularly for in-centre activities. However, these plans were disrupted with the announcement of a nationwide circuit breaker.
From Physical Befriending to Virtual Befriending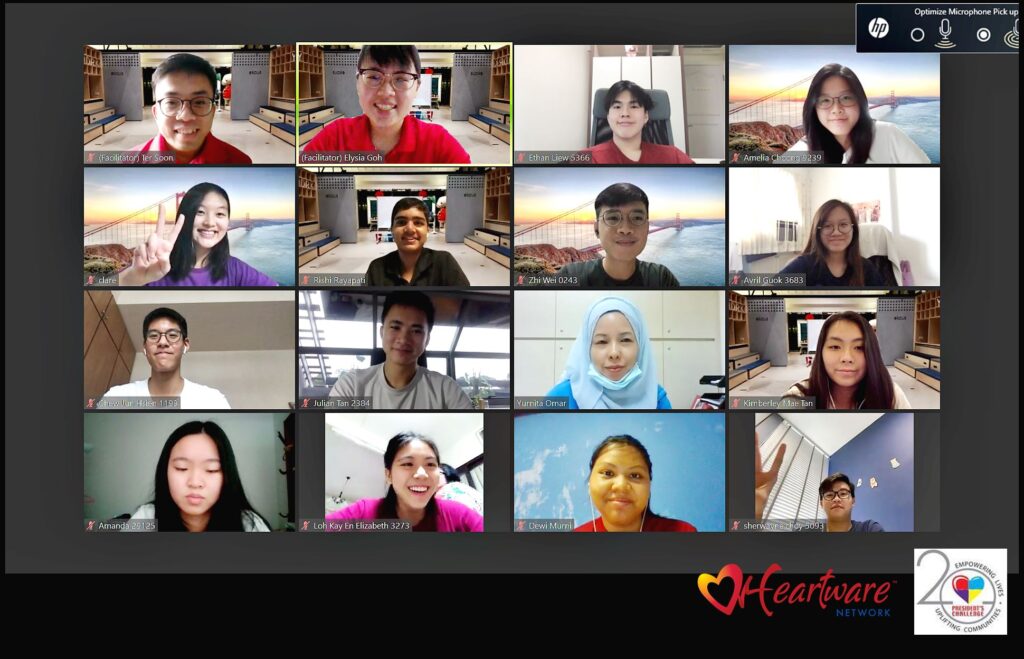 With the support from Heartware Network, the befriending programme was swiftly converted to a virtual befriending programme. Heartware Network is a registered charity in Singapore that champions Youth Volunteerism.
Heartware Network supported CPAS in the recruitment of 6 pairs of youth volunteers and 2 youth volunteer leaders to join in the pilot which started in July 2020.
Each pair of youth volunteers were paired with one adult alumni with cerebral palsy or multiple disabilities. As part of the monthly programme, volunteers spend around 4 hours per month to prepare for each session. This involved putting together a session plan, attending a rehearsal session to refine the activities and finally spending about an hour for the actual engagement session conducted virtually over Zoom.
Overcoming Challenges Creatively
The Virtual befriending sessions are not without its challenges. As it was a pilot project, effort had to be undertaken to guide caregivers to set up the Zoom sessions. For some caregivers, they also required additional convincing to see the value of the virtual befriending sessions.
Additionally, the profile of the alumni selected for the programme made it challenging as well. Most of them have Cerebral Palsy, a neurological condition that affects a person's movement, posture and muscle control. Persons with the condition often suffer from impairments in associated functioning as well, such as in areas of speech and hearing.
"Our beneficiary was often unresponsive at the start and it seemed like we could not find a way to engage her meaningfully. We tried with practical solutions like moving the sessions to the morning when she is more awake and relying more on stimulating videos and sounds to capture her attention. As it turns out, these would engage her better and made future sessions run more smoothly." – Julian Tan, Volunteer Befriender
Other volunteers also introduced interesting activities to help overcome some of the limitations of their assigned alumni partner.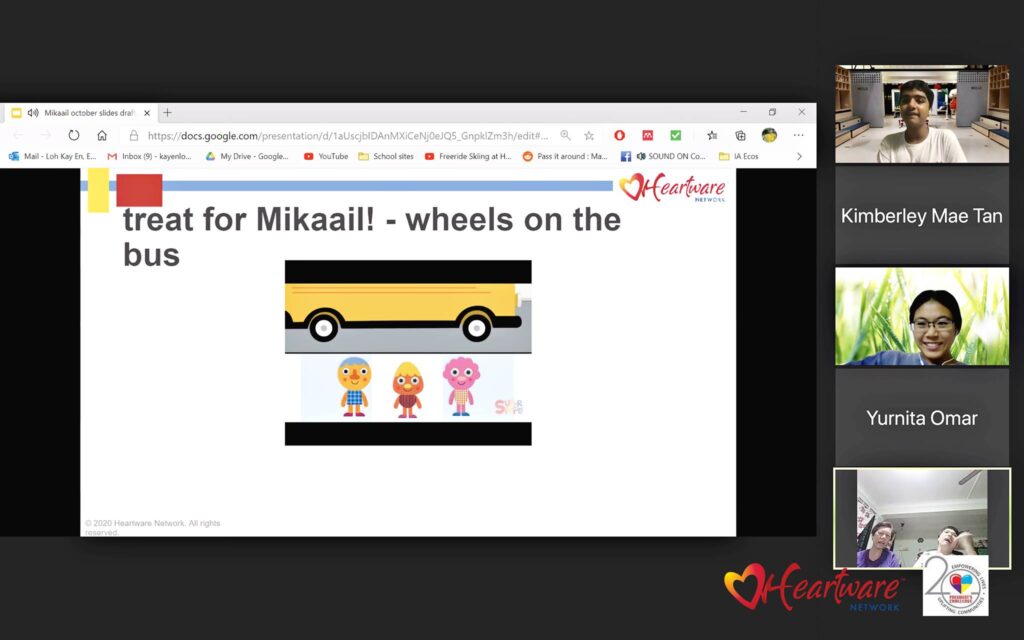 For instance, volunteer befrienders Rishi and Kay-en were paired with a visually-impaired alumni, Mikaail. They had to rely solely on their voices to convey what they wanted him to understand. They introduced sing-along sessions which Mikaail enjoyed very much.
The first few engagement sessions often required Ms. Yurnita Omar, the CPAS Alumni Liaison Officer to be present to facilitate the activities. As the sessions progressed over the months, volunteers become accustomed to running the session independently and she was thoroughly impressed at how the volunteers were able to creatively engage the alumni.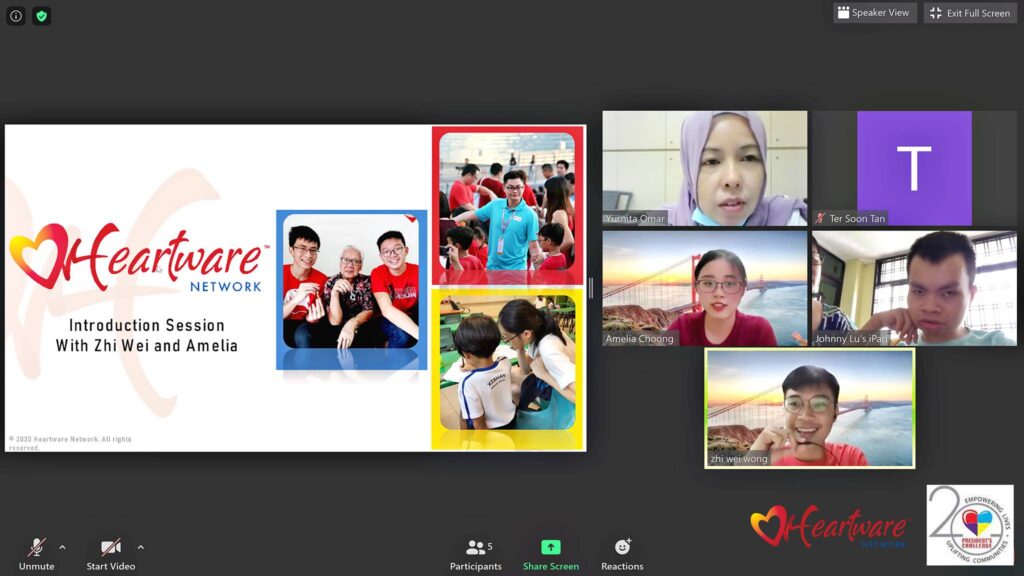 Youth Volunteers Paving the Way Forward for Social Inclusivity
The success of this pilot programme has to be attributed to the efforts and willingness of the Youth Volunteers to reach out to adults with special needs. Often, volunteers prefer volunteering with children causes, leaving adults with moderate to severe disabilities as an underserved community.
"The volunteers certainly outperformed our expectations, and it is encouraging to see that youths are open to befriending adults with special needs." – Yurnita Omar, CPAS Connect Alumni Liaison Officer
CPAS hopes that the successful pilot with Heartware Network will pave the way forward for more youth volunteers to step up to make a difference and volunteer with underserved communities. Certainly, YOUths can make a difference too!
For more information on the Virtual Befriending Programme, kindly write in to Volunteer@cpas.org.sg
#CerebralPalsySG #HeartwareSG #YouthBankSG #SGUnited #SGCares