Date: 16 November to 31 December 2020
2020 has not been an easy year for everyone. COVID-19 disrupted our lives and we were forced to adjust to a new way of life.
Meet Suzy, the girl with cerebral palsy. She is the Singaporean icon and donation box of Cerebral Palsy Alliance Singapore (CPAS) and has been in Singapore since 1984. You might recognize her in her blue dress, hugging a teddy bear. Like many of you, Suzy has had a tough year. But she has held steady, as she is on an important mission to raise funds for children and adults with cerebral palsy and multiple disabilities.
In February, Suzy organized The Great Zodiac Race of Love to find out which of the 12 Zodiacs had the most amount of love! Team Monkey came up on top! But the race celebrations came to a halt as we soon found ourselves in circuit breaker. Many generous Singaporeans came forward to help charities more visibly affected by the pandemic. Suzy soon realized that donors had forgotten about CPAS. She launched a campaign Don't Forget Us Too and appealed for donations to CPAS. From August to October, Suzy was hard at work again for the Spare Your Change For Suzy campaign to commemorate World Cerebral Palsy Month. Many individuals, schools, corporates and staff of CPAS came together to appeal to donors.
Join Steady Suzy in her final appeal this year! Against all odds, she has pulled through and she knows you will too!
This campaign is in support of the SG Cares Giving Week movement.
Support Suzy here: https://www.giving.sg/cerebral-palsy-alliance-singapore/steadysuzy
---
Giving Stories  
Across SG Cares Giving Week, Steady Suzy, the girl with cerebral palsy, will be sharing chapters from her book, Against All Odds. Be inspired by the stories and together let's build a community of care!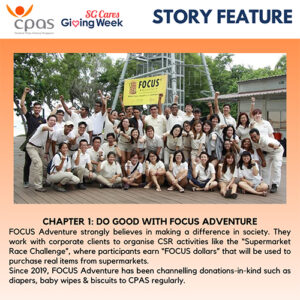 ---
Giving Partners
Bloom & Botanique 
Bloom & Botanique is launching seasonal hampers with specially crafted candles and painted pots for plants and succulents by CPAS School Students. To add on to the variety of the gift sets for your loved ones, Bloom & Botanique is also collaborating with Wine Marvel, a wine importer and retailer, to curate wines from different countries and also hand-wrapped Panettones from Italy. Customized hampers are also available.
Find out more on the product offerings here https://www.facebook.com/bloomandbotanique or email: info@bloomandbotanique.com
Cordlife Singapore 
Cordlife Singapore has appointed CPAS as the beneficiary for the Cordlife Donation Drive 2020, taking place from 27 November - 13 December 2020. They have also pledged $1,000 to the new IT services arm under CPAS's Goodwill, Rehabilitation and Occupational Workshop (GROW). GROW is a sheltered workshop offering vocational training and sheltered employment for adults with cerebral palsy and multiple disabilities.
FOCUS Adventure 
FOCUS Adventure is launching a Virtual CSR Teambuilding Package "The Online Supermarket Challenge" and offering an exclusive 20% Corporate Discount.
For more information of the program, please email: CSR@FOCUSAdventure.com

Gift For Good 
Gift For Good, a new donations-in-kind platform is an official partner of SGCares Giving Week for in-kind donations.They will look to bring onboard potential donors to help fulfil wishes from charities like CPAS.
Find out more about CPAS's Wishlist here: https://www.giftforgood.io/profile/F2gkCLXrfdRVLeoqeF4jKODRQry1
Lazada
Lazada will onboard CPAS on the platform for sale of merchandise to support our fundraising efforts. Find CPAS on LazMall from 1 December 2020.
Park Hotel Group
Park Hotel Group is doing an internal collection drive for preloved clothes for CPAS's Goodwill, Rehabilitation and Occupational Workshop (GROW) gift shop.  The Gift Shop is run by trainees from GROW with the aim of providing a safe and authentic training environment to learn various vocational and business skills.  In addition to manning the retail store, trainees assist in sorting and refurbishing items donated by corporate partners and individual donors.
Tong Eng Group 
From 1 December - 31 December 2020, find Suzy the iconic donation box from CPAS at Arc380, Tong Eng Building and Centrium Square. Funds raised from the dolls and an online Giving.sg campaign will be matched dollar for dollar up to $10,000 by Tong Eng Group.
---
About SG Cares Giving Week 2020  
Happening from 1 – 7 Dec, the Giving Week movement celebrates the spirit of giving and seeks to make giving part of our way of life.
SG Cares Giving Week movement is a time where individuals and the community give of their best to look out and care for one another through mutual care and support; a time where people give and share their Time, Talent, Treasure and Voice to support any cause they are passionate about in all ways, big and small. These are the little acts, when multiplied by millions, that make a world of difference. Together, let's build a Singapore that cares!